Pesticides or Phytosanitary Products, the Key is an Adequate Evaluation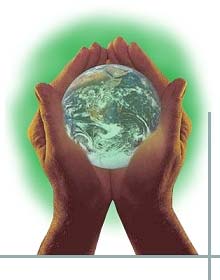 Products for crops protection, phytosanitary products or pesticides are chemical substances designed for the protection of crops from pests, weeds and diseases. They contribute in this manner to the production of healthy and abundant food. To ensure research, development, marketing and responsible use of pesticides, an adequate regulation is essential, based on scientific criteria and international standards.
The companies associated to CropLife Latin America follows the guidelines of the FAO International Code of Conduct on the Distribution and Utilization of Pesticides. Additionally, they follow strict parameters of ethics and social responsibility in aspects related to quality, human health care and environmental care.
The regulatory process of each country begins with the registration of the phytosanitary products. The authorities must realize an adequate evaluation of the scientific data and said data must demonstrate the safety and efficacy of the phytosanitary product, and guarantee that when the pesticides are used according to label instructions they do not represent unacceptable risk for the health and the environment. This evaluation is an essential requirement to grant the sales permit or product registration.
In the registration process of a phytosanitary product, the following three authorities intervene:
Agriculture:

Evaluate the "efficiency ", in other words, the product will control the pest for which it was designed.
Environment: Evaluate the impact that the product may have in superficial and underground water, in the fauna and in the air.
Health: Evaluate the risk that the product may have for the user or person applying the product and for the food consumer.
It is the responsibility of the authorities of each country to maintain an adequate regulatory framework and evaluation process that ensures the quality and safety of the phytosanitary products that the farmers use. The responsibility for producers, importers and distributors is to present to the authorities the studies or scientific proof which give support to the safety and efficacy of the product which they pretend to market.
Regulation News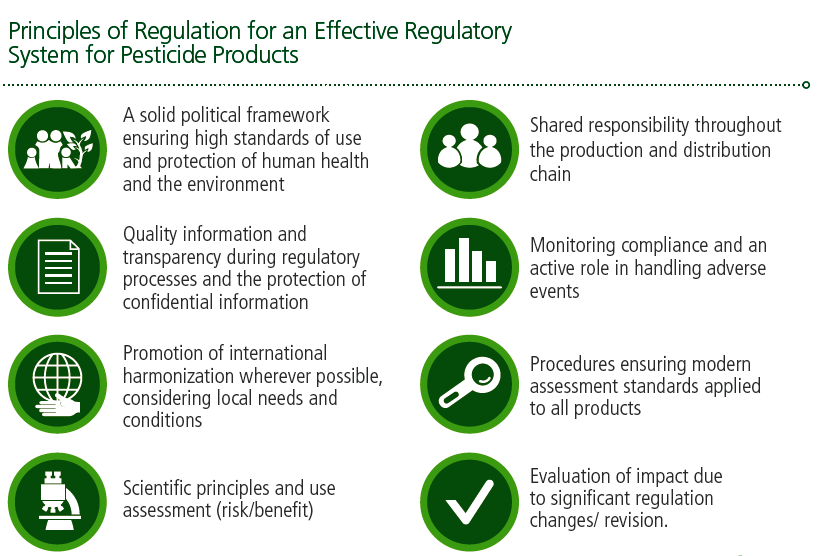 Code of Conduct for the FAO
The FAO International Code of Conduct on the Distribution and Utilization of Pesticides establishes conduct norms of voluntary character for all public and private entities that intervene in the distribution and utilization of pesticides or have contact with them. It was adopted in 1985 at the FAO Conference on its 23rd session period; 2002 is the last Code version available.
The industry represented by CropLife Latin America follows the alignments of the FAO Code and motivates all sectors related to the phytosanitary products to know and apply the Code. To this end, CropLife Latin America designed a Free Virtual Course. This course teaches in four modules the Code principles.
Recommended Video
Regulation Documents
Presentations
Legal Regulatory Environment in Latin America, Javier Fernandez, Director of Legal and Regulatory Affairs CropLife Latin America. In Informa Life Sciences Congress on off-patent products and generics. Brussels, November 2010.

Slideshow
Articles
Videos
Interview with Carlos Buzio, President of CropLife Latin America about the importance of intellectual property to the industry that researches and develops new plant protection products. Date: December 2010. Duration: 3 minutes.

View Video
Regulation Links
CropLife Internationa

l
www.croplife.org
Agencia de Protección Ambiental de los Estados Unidos, EPA
www.epa.gov
Departamento de Agricultura de Estados Unidos, USDA
www.usda.gov

Organización de las Naciones Unidas para la Agricultura y la Aimentación, FAO


www.fao.org
Servicio Nacional de Sanidad Agraria (Argentina)
www.senasa.gob.ar
Servicio Nacional de Calidad y Sanidad Vegetal y de Semillas, SENAVE
www.senave.gov.py
Organización Brasilera de Investigación Agropecuaria, EMBRAPA
www.embrapa.gov.br
Instituto Colombiano Agropecuario, ICA
www.ica.gov.co
Agrocalidad (Ecuador)
www.agrocalidad.gob.ec
Servicio Naciona de Sanidad Agraria (Perú)
www.senasa.gob.pe
Servicio Nacional de Sanidad Agraria (Bolivia)
www.senasag.gov.bo
Servicio Autónomo de Sanidad Animal,(Venezuela)
www.insai.gob.ve
Servicio Agrícola y Ganadero (Chile)
www.sag.gob.cl
Servicio Nacional de Sanidad Agraria (Honduras)
www.senasa-sag.gob.hn
Ministerio Agropecuario y Forestal (Nicaragua)
www.magfor.gob.ni
Servicio Fitosanitario del Estado (Costa Rica)
www.sfe.go.cr
Ministerio de Desarrollo Agropecuario, MIDA (Panamá)
www.mida.gob.pa
Secretaria de Agricultura, ganadería, Desarrollo Rural, Pesca y alimentación (México)
www.sagarpa.gob.mx
Servicio Nacional de Sanidad, Inocuidad y Calidad Agroalimentaria (México)
www.senasica.gob.mx